Dentistry for Children in La Jolla

Through the dentistry for kids available at our La Jolla – North Pacific Beach dental office, serving the entire San Diego region, Dr. Weston Spencer is able to teach children proper oral health care habits at an early stage in their lives, when they are most impressionable. Developing a friendly rapport with Dr. Weston Spencer during their early years helps children to form a positive relationship with their dental routines and with dentistry in general.
A Child's Dental Development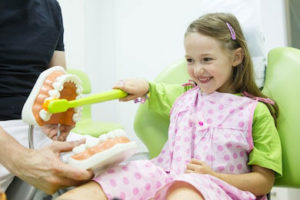 Understanding how a child's teeth develop can assist parents in caring for their child's teeth. Though they do not begin to surface until a child is born, the teeth actually develop during the sixth week of gestation. Both the primary and permanent teeth form during gestation, with the first primary teeth erupting as early as three months, but typically around six months. However, some children can be born with teeth that have erupted, although this is uncommon. The teeth erupt on a loose schedule with all 20 primary teeth erupting by the time they are three years old. Between six to 13 years old, children will begin to lose their primary teeth to make way for their 32 permanent teeth. Between 17 to 21 years of age, the wisdom teeth, commonly referred to as third molars, will erupt and may require a tooth extraction so as not to disrupt the other teeth.
Caring for Your Child's Teeth
Oral health care should be exercised from a very early age. During infancy, a child's gums and teeth should be wiped with a warm, wet gauze or washcloth twice a day. Even formula and breast milk can cause erosion and decay to newly forming teeth. Introducing a soft toothbrush allows children to acclimate to the sensation caused by brushing. At 18 months or when children switch to table foods, their teeth should be brushed with baking soda and a wet toothbrush. At two years old, parents can switch to a fluoride-free toothpaste. Fluoride toothpaste should be avoided until the child is at least three and will not swallow toothpaste.
Forming Strong Oral Health Habits
Teaching children strong oral care habits as a child will translate into similar oral care habits as an adult. Parents can establish an oral care routine early in childhood that involves brushing and rinsing the teeth twice a day and especially after meals. Children learn through mimicry so parents can encourage their children by brushing their own teeth alongside their children. Using clear communication can help children understand the process of strong oral care. Until children are able to properly brush all surfaces of parents should brush their child's teeth, while encouraging their child to attempt the activity on their own. When children are old enough for flossing, Dr. Weston Spencer can instruct a child on the proper methods, which should be added to their dental care routine.
Preventative and Protective Exams
A child's first dental exam can be scheduled as early as the child's first tooth erupts and no later than their first birthday. Creating a positive rapport with dentistry can help children establish a healthy relationship and fight negative associations with the sounds and smells of the dental office. If a child is excited about visiting the dentist, they are more likely to establish healthy dental habits throughout life.
At a child's biannual dentistry exam at our La Jolla – North Pacific Beach dental office, the teeth will be visually examined to ensure that they are healthy and erupting properly and on schedule. During the exam, Dr. Spencer will inspect all teeth for tooth decay and take any preventative dentistry measures necessary to protect the teeth from damage. If needed, Dr. Spencer may recommend a fluoride treatment or dental sealants that provide a protective coating on the biting surfaces of teeth.
Establishing strong oral care habits in early childhood creates the cornerstone to continued care and appreciation for teeth throughout his or her life. Proper oral care will ensure a child has healthy and well-maintained teeth and gums while guiding him or her towards a beautiful smile that will last a lifetime.
Learn More about Dentistry for Kids in La Jolla!
If you would like to learn more about the dentistry for children services available at our La Jolla – North Pacific Beach dental office serving all of San Diego County, please contact Weston Spencer DDS today.