Denture Implants La Jolla
Dr. Weston Spencer is pleased to offer All-On-4 Dental Implants at his La Jolla – North Pacific Beach restorative dentistry office, serving all of San Diego County. This extraordinary treatment offers an immediate solution to patients who are missing most or all of their teeth on a single arch, as well as those whose teeth are so extensively damaged that they require extraction. Rather than creating an implant for each individual tooth, Dr. Spencer is able to use advanced technology to replace all of the teeth on the upper or lower arch using just four dental implants.
About All-On-4 Denture Implants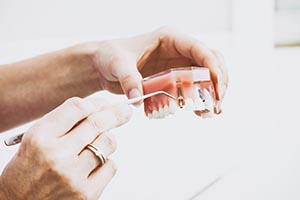 All-On-4 dental implants represent an innovative method of replacing missing teeth. Through meticulous planning and the use of advanced imaging technology, Dr. Spencer is able to strategically position All-On-4 denture implants to provide support for full-arch, immediate-load dentures. Patients are able to replace their entire top or bottom row of teeth and restore a full, beautiful smile on the same day on which they have their dental implants surgically placed.
Dental implants are titanium posts that are surgically embedded into the bone structure of the jaw. Over time, the titanium posts fuse to the bone, providing full stability and support of natural teeth. Unlike removable dentures, dentures attached to these titanium posts prevent future bone loss and gum recession, ensuring better oral health with a beautiful smile.
The implants support the structure of, what is essentially a permanent denture. Porcelain dental crowns are fixed in a flesh-colored base to match the gums. When placed on the implant, the crowns look and function like natural teeth.
Candidates for All-On-4 Implants
All-On-4 dental implants are not for everyone. During your initial consultation, Dr. Weston Spencer will examine the health of the jaw and surrounding tissue. To properly support the implant, patients must exhibit sufficient gum tissue density and bone density. A comprehensive exam will include a general health exam.
Patients should be in good overall health before undergoing the surgery. Patients should have clear expectations for the procedure, which requires several months of healing to allow the implants to fuse to the bone structure, also known as osseointegration. Dr. Spencer will discuss your options to replace your missing teeth and determine whether All-On-4 denture implants are right for you.
The All-On-4 Implant Technique
All-On-4 implants can be used to replace the top teeth, bottom teeth, or all teeth within the mouth. Prior to placement, any remaining teeth will be extracted to accommodate the dental appliance. A three-dimensional scan of the mouth is taken to ensure proper placement of the four implants into the jaw. Local anesthesia will be administered to the surrounding area to numb the tissue prior to implantation. A specialized drill and tools will be used to insert the titanium posts into the gums. Once successful osseointegration has occurred, the denture can be attached.
Prior to attachment, the denture is inspected to ensure a secure hold. The custom-created denture with abutments is then permanently secured to the implants. Once in place, patients are able to enjoy the look and function of a full set of teeth.
>> Learn more about the all-on-4 procedure
All-on4 FAQ
What is All-on-4?
All-on-4 is a dental implant system that replaces an entire arch of teeth with four implant posts. The posts secure a denture prosthetic that recreates the appearance of natural teeth and gums.
Does the All-on-4 system look natural?
Yes. The artificial teeth and gum tissue are crafted from the finest materials for a very natural result. No one will be able to tell you have dentures or implants unless you tell them.
How long does it take to have All-on-4 placed?
Most patients can have their implant posts and dentures placed on the same day. The appointment generally takes a few hours.
Does it hurt to have All-on-4 placed?
No, your mouth will be numbed and you may be sedated with medication to make the experience pain-free. Dr. Spencer can prescribe pain medication to keep you comfortable as you heal from surgery.
Who is a good candidate for All-on-4?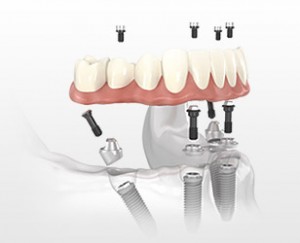 Interested candidates are encouraged to meet with Dr. Spencer for an evaluation and screening. Generally, suitable candidates for All-on-4 are in good health, do not smoke and are missing most or all of the teeth in the upper jaw, lower jaw or both. Candidates should have sufficient jawbone to support two implant posts in the anterior of the jaw and two implant posts in the posterior of the jaw.
How do I care for my new teeth?
Your All-on-4 prosthetic should be cleaned similarly to natural teeth. Specifically, your teeth should be brushed and flossed daily to prevent food particles from getting stuck in between the teeth. Our team can demonstrate the proper technique for you.
What are the advantages of All-on-4 compared to traditional dentures?
All-on-4 is more secure because the dentures are anchored in place to dental implant posts. The prosthetic does not require any adhesive or special products, unlike dentures. The artificial teeth look and feel like natural teeth, and they support normal eating and speaking function. Because the implants fuse to the jawbone, they stimulate bone growth and prevent bone loss; compare that to traditional dentures, which simply rest on the gums and cannot stimulate the bone.
What if I need All-on-4 on only one jaw?
Dr. Spencer can place All-on-4 on one jaw. However, we encourage you to have him evaluate your other jaw. If you are likely to need replacement teeth on that jaw in the future, it might make sense from a clinical and financial standpoint to replace the teeth on both jaws at the same time. Dr. Spencer can explain your options in more detail during a consultation.
What is the success rate of All-on-4?
All-on-4 has a very high success rate. According to the manufacturer of the system, Nobel Biocare, All-on-4 has a 99 percent success rate at three years. At five years, the system has a 98 percent rate in the maxilla and at 10 years, a 94.8 percent success rate in the mandible.
How is All-on-4 Cost Determined?
All-on-4 cost varies by patient. No two treatment plans are exactly alike and every patient has a unique set of needs. There are several elements that will factor into the cost of your All-on-4 treatment, including the following:
The type of implants used
The material used to create the artificial teeth
The number of X-rays and CT scans taken to plan treatment
Whether teeth need to be extracted prior to placing the All-on-4 system
Whether bone grafting is needed prior to placing the All-on-4 system
Whether infected bone or gum tissue needs to be extracted
The qualifications and experience of the dentist placing All-on-4
The type of sedation dentistry utilized (oral, IV, anesthesia)
The best way to get a quote for All-on-4 is to book an informational consultation with Dr. Spencer and our team. After the dentist meets you, examines your mouth and discusses your needs, our office manager can estimate treatment costs and go over payment and financing options.
>> Learn more about the cost of all-on-4 denture implants
Does Insurance Cover All-on-4?
Dental insurance plans can vary widely in what they do and do not cover. In general, All-on-4 is considered by many insurance companies to be elective and thereby not eligible for benefits. However, it's difficult to say for certain what your plan covers.
It's best to check with your individual insurer and verify your plan details. You may be eligible for a portion of the procedure but not the entire treatment. Our staff would be happy to answer any questions you have and, if you are eligible for coverage, help you submit a claim.
>> Find more all-on-4 FAQs here
Caring for Your All-On-4 Implants
To properly care for your All-On-4 dental implants after they have been placed at our La Jolla – North Pacific Beach dental office, routinely brush and floss your teeth twice a day. Dental implants should be treated and maintained similar to natural teeth. During your routine dental exam, Dr. Spencer will examine the denture and implant posts to ensure the dental appliance is secure and supported as expected.
Learn More about All-On-4 Dental Implants
All-On-4 dental implants offer a potentially ideal solution for patients who need to replace most or all of the teeth on either their upper or lower jaw. If you would like to discover whether you are a good candidate for All-On-4 dental implants at our San Diego practice, we urge you to schedule your initial appointment with Dr. Weston Spencer. Simply contact our cosmetic and restorative practice today, and we will gladly assist you in scheduling your consultation.