One Day Dental Implants La Jolla
In the event of traumatic injuries that result in a loss or extensive damage that requires a tooth extraction, Dr. Weston Spencer offers emergency dentistry in the form of same day dental implants. At our La Jolla – North Pacific Beach dental office, these dental implants offer San Diego area patients an immediate opportunity to restore form and function to their mouths, not to mention some semblance of normalcy to their lives, after the unexpected loss of a tooth. With this extraordinary technology, patients are able to make their smiles whole again in as little as one day.
About Same Day Implants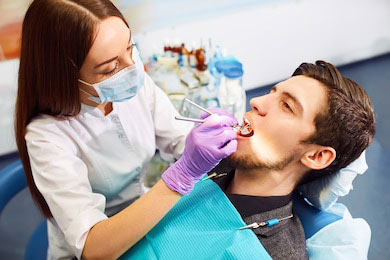 Same day implants represent an incredible breakthrough in dental technology. Patients are able to enjoy fully functioning replacement teeth on the same day that their dental implants are surgically placed in their jaws. Rather than waiting weeks for their dental implants to integrate with their jawbones, patients receive a temporary dental crown to replace the missing or damaged tooth.
The surgical post, made of titanium, is placed into the jaw and a crown is attached on top of it to replace the natural tooth. This post acts as a root system for the crown. With same day dental implants, patients are able to return to their regular routines just briefly after the implant is placed. The result is a beautiful smile with significantly shorter healing time.
Candidates for Same Day Implants
Immediate placement implants are not suitable for all patients. During their consultations, Dr. Weston Spencer takes X-rays to evaluate the strength and structure of their jaws and ensure that there is no atrophy that would prevent a successful same day implant. To determine whether the procedure is ideal for a patient, Dr. Spencer examines their gums and supportive tissues.
The Procedure: A Quick Solution to Missing Teeth
In some cases, a tooth will need to be extracted before the implant process may begin, to allow for immediate temporization. Patients are provided with local anesthesia to numb the area prior to treatment. Alternatively, patients may elect to undergo surgery while under dental sedation. A specialized drill and tools will be used to place the titanium post into the jaw. Over time, this post will fuse to the bone within the jaw, allowing the implant to have a strong support system similar to a natural tooth.
Once the post is in place, an abutment is attached, which will allow a temporary crown to be attached to the implant. The temporary crown provides patients with the look and function of their natural tooth the moment they walk out of our office.
Caring for Your Same Day Implants
Caring for your same day dental implants is as important as caring for your natural teeth. Regular brushing and flossing twice a day will ensure implants last for many years. During the routine oral exams, Dr. Spencer will examine the implant to ensure it is still offering the stability and support the patient needs.
Learn More about Same Day Dental Implants
Same day dental implants are an outstanding solution for our San Diego patients in need of immediate placement implants. If you require emergency dental care, of if you simply want to find out whether you are a suitable candidate for same day dental implants, please schedule a consultation at our La Jolla – North Pacific Beach dental office today.