Porcelain Dental Crowns La Jolla
A lot of value is placed on the appearance of the teeth. Everyone wants a beautiful white, Hollywood-like smile. In many cases, dental crowns at our La Jolla – North Pacific Beach dental office can be used to conceal a discolored tooth and achieve the glamorous smile a patient desires. In fact, Dr. Weston Spencer has used a combination of dental crowns and porcelain veneers to produce some of his most stunningly transformative smile makeovers.

Contact Us For Dental Crowns

The Need for a Dental Crown
Patients can require a dental crown for a variety of reasons. Some common reasons for a patient to require a crown are:
If the tooth has a large filling
If a patient undergoes root canal therapy
Patients who are prone to grinding their teeth, such as those with TMJ disorder
Patients who experience excessive wear from acidic diets or gastrointestinal acid reflux
Broken and cracked teeth
Dental crowns are also often used in conjunction with dental implants to replace missing or extracted teeth so that the structural integrity and aesthetics of the teeth are maintained.
Broken and Cracked Teeth Repair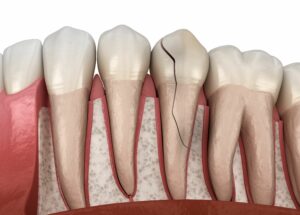 A dental crown will often be used to either repair or replace a broken or cracked tooth. If you have a tooth that is broken or severely cracked, it needs to be evaluated as soon as possible. Broken and cracked teeth can have a negative impact on your oral health because they are more prone to infection and can sometimes damage the teeth around them.
Even if you are not experiencing any discomfort, it is important that you address any broken or cracked teeth right away. Dental crown replacement is an effective way to fix a broken tooth or a tooth that is cracked to keep it from getting infected and causing any additional harm.
The Dental Crown Procedure
Prior to the placement of dental crowns at our La Jolla – North Pacific Beach dental office, patients will be provided with local anesthesia to numb the surrounding area and affected nerves.
The tooth is then prepared for the crown by reshaping the tooth to allow space for the crown.
After the tooth is reshaped, an impression is made to create a model.
The impression is sent to an off-site laboratory that will create the crown. Dr. Spencer will fit the existing structure with a temporary crown until the permanent crown arrives.
When the permanent crown is ready, the patient will return for their second visit. The area will be numbed and Dr. Spencer will remove the temporary crown.
The permanent crown will be placed to ensure it is a good fit and allows for a good bite.
After any necessary adjustments are made, the crown will be cemented into place.
Dr. Spencer is Professional, Skillful and Knowledgeable!
I have a terrible fear of the dentist and had just come from a two appt root canal to get a new crown fitted. Dr. Spencer was very assuring, and explained the next steps to assure me there wasn't anything to worry about. Throughout the appt he checked in to see how I was doing, talked me through it to let me know we were almost done. I have to go back to treat the next tooth but I'm so comfortable that I don't have to pre-medicate (as I did with the root canal). Dr. Spencer is professional, skillful and knowledgeable-everything you want in a dentist. I've always been in excellent hands with his partner Dr. Rucks and as he is phasing into retirement my fears and concerns have been settled knowing Dr.Spencer's chairside manor and modern day dentistry skills will be there for my dentistry needs!
~ Gina C.
Understanding Dental Crowns
The human tooth can be broken down into two basic areas: the roots that extend below the gum line, and the clinical crown that is the visible area above the gum line. When the tooth becomes damaged due to injury or extensive tooth decay, a dental crown is required to restore the appearance and function of the tooth.

Contact Us For Dental Crowns
Caring for Your Dental Crowns
With proper care, dental crowns typically last between 10 to 20 years. Brushing and flossing the teeth regularly is essential to maintaining the health of the remaining natural tooth structure and the surrounding teeth. Although the dental crown is not a natural tooth, it is still subject to cavities and fractures. Extra care should be taken when brushing a crowned tooth to protect it from unnecessary wear. In some cases, Dr. Spencer may recommend a mouth guard to be worn at night to provide additional protection.
The dental crown, sometimes referred to as a dental cap, is made of stainless steel, gold, or another alloy metal, porcelain fused to metal, or ceramic. In most cases, tooth-colored dental crowns are preferred by patients of our La Jolla – North Pacific Beach dental office for their cosmetic appeal. These custom-crafted dental crowns are tailored to complement surrounding natural teeth in terms of size, shape, color, and even texture. Once a tooth-colored dental crown is attached to the prepared tooth, it is virtually indistinguishable from the adjacent natural teeth.
For patients who are missing teeth, dental crowns can also be attached to dental implants.
Learn More about Dental Crowns
Dental crowns are a potentially ideal treatment for a variety of practical and aesthetic reasons. Dental crowns restore not only function but also a person's confidence in his or her smile. If you think that you might benefit from a dental crown, we invite you to schedule a consultation with Dr. Weston Spencer by contacting our La Jolla – North Pacific Beach dental office today.