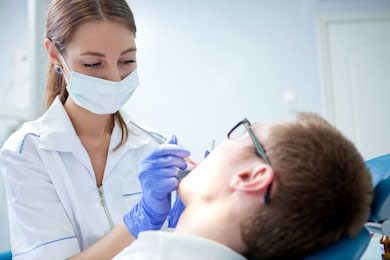 It is very common to be nervous about the dental chair. Millions of people share the same hesitance to make that appointment or get work done.
Difficulties with dental work can be due to a number of reasons.
Severe gag reflex.
ADD/ADHD.
Involuntary muscle movement.
High muscle tension.
Anxiety.
Past trauma.
Trouble with the effectiveness of local anesthesia.
Mental troubles, such as Alzheimer's or dementia.
High drug tolerance.
If you suffer from one or more items in the list above, then you may be interested in sedation dentistry.
What is Sedation Dentistry?
Sedation is a perk available to you for just about any dental procedure you might need. It is not a replacement of traditional anesthesias or techniques, but an add-on to make those processes a little easier to bear.
There are several different ways to receive sedation treatment, but all of them provide a number of great benefits for you.
Ease of Mind | Anxiety is a common difficulty, especially in the face of the dental chair. Sedation practices help lower anxiety and increase peace of mind. In fact, some forms of sedation are even proven anxiolytics, or anti-anxiety measures.
In addition, many older patients who suffer from memory loss or dementia can benefit from a sedation treatment in order to calm sudden fear or confusion.
Ease of Body | Relaxants can ease tension of the muscles and prevent them from contracting at inopportune times. This can be especially helpful in the case of an ailment like Parkinson's, or when a patient has an overactive gag reflex.
Relaxed muscles also help in the relaxing of the mind by lowering adrenaline production common to fight or flight responses.
Sedation Options
There are many different ways to receive dental sedation, each with their own pros and cons.
Minimal Sedation | By far one of the most common and longest-used methods is laughing gas. Laughing gas has been safely and effectively used in dental procedures for well over a hundred years, and is still one of the safest, most hypoallergenic substances used for sedation.
One of the most interesting and useful aspects of laughing gas is the fact that it doesn't metabolize. In other words, when we take it into our bodies, it doesn't break down or absorb into our tissues.
This means that from the moment the gas stops flowing, it only takes a minute or two for the substance to completely leave. No residual effects. No adverse reactions. In fact, it is both safe and legal to drive yourself home after laughing gas.
Moderate Sedation | This is otherwise known as conscious sedation. Moderate sedation takes you a little deeper than laughing gas. You'll still be entirely conscious and able to respond to questions, but you'll be even more relaxed, for an excellent, low-stress dental experience.
It will, however, leave you groggier than laughing gas, which means you'll need a ride home from the appointment.
Dr. Andrew Elmasri
Dr. Elmasri is an excellent and well-trained anesthesiologist. He has won many awards, and is double board certified by the American Dental Board of Anesthesiologists and the National Dental Board of Anesthesiologists.
We're especially glad to have him on hand so that you know your sedation experience will be top-notch.
Talk to Us About Sedation Dentistry
If you have any qualms about coming in for dental work—any qualms at all—don't hesitate to let us know. We are more than willing to work with you in any way we can. It might just be that sedation dentistry is the answer you've been looking for.