Custom Dentures La Jolla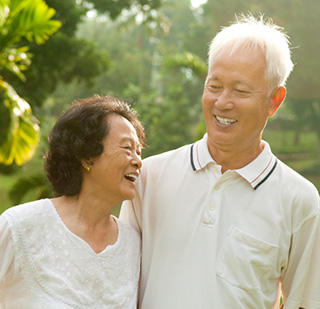 The loss of teeth can cause a number of challenges for individuals. Patients may suffer from difficulty chewing or speaking and lack of confidence in their smile. But patients can put such problems squarely behind them with a set of comfortable, attractive custom dentures created especially for them at the La Jolla – North Pacific Beach office of San Diego dentist Weston Spencer. Although dentures represent one of the most tried-and-true solutions to missing teeth in all of dentistry, modern dentures are more effective and natural in terms of their appearance and feel than ever before. Patients emerge from treatment with a renewed lease on life and a beautiful, rejuvenated smile.
What are dentures?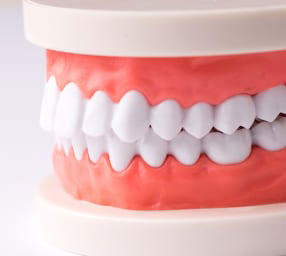 Conventional dentures are removable dental appliances designed to replace missing teeth that have been lost due to poor oral care, trauma or injury, or general aging. The denture consists of a flesh-toned base with white porcelain teeth. Dentures allow patients the ability to eat, talk, and smile with confidence and ease once again. Because each patient's needs are different, Dr. Weston Spencer provides a variety of denture options for his patients.
Types of Dentures
Dr. Spencer offers patients of his La Jolla – North Pacific Beach dental office several options to meet their individual needs. Dentures are custom made for each patient so that they fit comfortably within the mouth while improving function for the wearer. Depending on your needs, Dr. Spencer may recommend a complete denture or a partial denture.
Complete Dentures
Complete dentures replace all of the teeth in the jaw and can be worn exclusively to replace the top or bottom row of teeth or to replace both rows. In instances where the patient has some teeth remaining, the teeth would need to be extracted before the denture is worn. The gums will need to heal after extraction in order for the dentures to fit properly, after which dentures provide a snug fit allowing them to function like natural teeth throughout the day.
Partial Dentures
Partial dentures are potentially ideal for patients who are missing just a few teeth. The partial denture fills in the spaces where the teeth are missing while allowing the remaining natural teeth to stay in place. Unlike a fixed dental bridge, however, partial dentures can be removed. The partial denture uses a flesh-toned base or metal framework to support the replacement teeth.
Implant-Supported Dentures
If desired, patients can elect to have their custom dentures attached to dental implants for the ultimate in stability and security. Implant-supported dentures are the next best thing to having a mouth full of natural, healthy teeth. Be sure to discuss state-of-the-art All-On-4 full-arch implants with Dr. Spencer during your consultation.
Adjusting to Dentures
Wearing dentures requires a bit of adjustment for patients, particularly those who have been without teeth for an extended period of time. The dental appliance will often feel bulky at first, often contributing to difficulty in speaking or eating as the patient acclimates. With routine wear, the patient will adjust to the denture appliance.
Caring for Your Dentures
Caring for your dentures is just as important as brushing your teeth regularly. Proper care of your dentures will help you to maintain a healthy mouth while ensuring your dental appliance lasts for a long time. Always handle your dentures carefully to prevent damage.
Dentures should be removed and rinsed of any debris after meals. Similar to your natural teeth, dentures should be brushed regularly to remove any food particles and plaque that accumulate throughout the day. The removable nature of dentures allows patients to soak them overnight in lukewarm water with a gentle denture cleaning solution. A soft-bristled toothbrush should be used to clean your gums, tongue, cheeks, and the roof of the mouth and can be followed with mouthwash. When you are ready to wear your dentures, rinse them before wear and apply a temporary denture bonding agent to ensure your dentures fit comfortably without movement.
Learn More about Custom Dentures
Dr. Weston Spencer offers custom dentures of the most surpassing standard at his La Jolla – North Pacific Beach restorative dentistry office. If you think you could benefit from custom-crafted dentures, whether conventional or supported by dental implants, please contact our cosmetic and restorative dentistry practice to schedule your initial consultation with Dr. Spencer today.