FREE Restorative Dentistry Consultation (including necessary x-rays)
~ OR ~
FREE Second Opinion ($199 value) Call 858-459-0077 today to schedule.
Denture Implants La Jolla
Dr. Weston Spencer is pleased to offer All-On-4 Dental Implants at his La Jolla restorative dentistry office, serving all of San Diego County. This extraordinary treatment offers an immediate solution to patients who are missing most or all of their teeth on a single arch, as well as those whose teeth are so extensively damaged that they require extraction. Rather than creating an implant for each individual tooth, Dr. Spencer is able to use advanced technology to replace all of the teeth on the upper or lower arch using just four dental implants.
About All-On-4 Denture Implants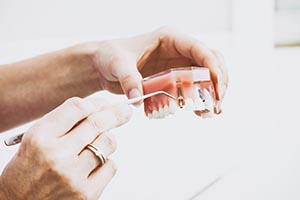 All-On-4 dental implants represent an innovative method of replacing missing teeth. Through meticulous planning and the use of advanced imaging technology, Dr. Spencer is able to strategically position All-On-4 denture implants to provide support for full-arch, immediate-load dentures. Patients are able to replace their entire top or bottom row of teeth and restore a full, beautiful smile on the same day on which they have their dental implants surgically placed.
Dental implants are titanium posts that are surgically embedded into the bone structure of the jaw. Over time, the titanium posts fuse to the bone, providing full stability and support of natural teeth. Unlike removable dentures, dentures attached to these titanium posts prevent future bone loss and gum recession, ensuring better oral health with a beautiful smile.
The implants support the structure of, what is essentially a permanent denture. Porcelain dental crowns are fixed in a flesh-colored base to match the gums. When placed on the implant, the crowns look and function like natural teeth.
Candidates for All-On-4 Implants
All-On-4 dental implants are not for everyone. During your initial consultation, Dr. Weston Spencer will examine the health of the jaw and surrounding tissue. To properly support the implant, patients must exhibit sufficient gum tissue density and bone density. A comprehensive exam will include a general health exam.
Patients should be in good overall health before undergoing the surgery. Patients should have clear expectations for the procedure, which requires several months of healing to allow the implants to fuse to the boney structure, or osseointegrate. Dr. Spencer will discuss your options to replace your missing teeth and determine whether All-On-4 denture implants are right for you.
The All-On-4 Implant Technique
All-On-4 implants can be used to replace the top teeth, bottom teeth, or all teeth within the mouth. Prior to placement, any remaining teeth will be extracted to accommodate the dental appliance. A three-dimensional scan of the mouth is taken to ensure proper placement of the four implants into the jaw. Local anesthesia will be administered to the surrounding area to numb the tissue prior to implantation. A specialized drill and tools will be used to insert the titanium posts into the gums. Once successful osseointegration has occurred, the denture can be attached.
Prior to attachment, the denture is inspected to ensure a secure hold. The custom-created denture with abutments is then permanently secured to the implants. Once in place, patients are able to enjoy the look and function of a full set of teeth.
Caring for Your All-On-4 Implants
To properly care for your All-On-4 dental implants after they have been placed at our La Jolla dental office, routinely brush and floss your teeth twice a day. Dental implants should be treated and maintained similar to natural teeth. During your routine dental exam, Dr. Spencer will examine the denture and implant posts to ensure the dental appliance is secure and supported as expected.
Learn More about All-On-4 Dental Implants
All-On-4 dental implants offer a potentially ideal solution for patients who need to replace most or all of the teeth on either their upper or lower jaw. If you would like to discover whether you are a good candidate for All-On-4 dental implants at our San Diego practice, we urge you to schedule your initial appointment with Dr. Weston Spencer. Simply contact our cosmetic and restorative practice today, and we will gladly assist you in scheduling your consultation.