All on 4 Step by Step La Jolla
Some of the most frequently asked questions about All-on-4 are about the procedure steps and what treatment entails. Interested candidates want to know exactly what they can expect from the system. Dr. Weston Spencer is happy to sit down and discuss this process with anyone interested in All-on-4 in La Jolla and Pacific Beach.
Treatment Planning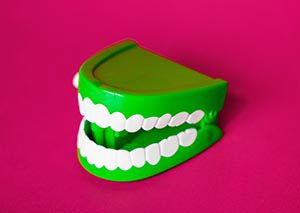 The first step of All-on-4 treatment is a consultation and screening with Dr. Spencer. During this appointment, the dentist will perform a complete examination of your mouth and the condition of any remaining teeth. He wants to establish an accurate understanding of your oral health. He will take 3D CT scans to look at the underlying structures of your mouth — specifically the jawbone. Dr. Spencer checks for any areas of bone loss that may make it difficult for the bone to support the dental implant posts. Generally, bone grafting can be avoided for patients that have bone loss by tilting the posterior implant posts, but alternative options may need to be explored.
Based on Dr. Spencer's findings, he will discuss whether you are a good candidate for All-on-4 and if not, he can discuss treatment alternatives. If it is determined that you are a good candidate for the All-on-4 system, Dr. Spencer and our team will take molds or impressions of your upper and lower jaws. This information will be used by the lab technicians that design and construct your dentures. Dr. Spencer may also take additional X-rays and photographs of your teeth and mouth to help him plan out your treatment. He will map out the position and location of the implant posts that will anchor your dentures.
Tooth Extraction (If Necessary)
Some patients have failing teeth remaining in the mouth that need to be extracted before the All-on-4 system can be placed. The tooth extraction procedure is not painful and should not cause any discomfort. Sedation dentistry techniques can be utilized if necessary.
All on 4 Procedure
Placing the Implant Posts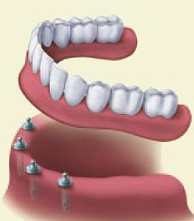 The next step is to place the dental implant posts into the jaw. Your mouth will be numbed and you will receive sedation medication to put you in a relaxed and comfortable state.
Before placing the implant posts, Dr. Spencer will remove any diseased or infected tissue from the jaw and gums, if present.
Four posts will be used per arch, so if you are receiving the All-on-4 system on your upper and lower jaw, you will have a total of eight posts placed.
Two implant posts will be placed toward the front of the jaw and two posts placed at the back of the jaw at a 45-degree angle. The angle is designed to utilize available bone in candidates that have bone loss.
Attaching the Denture Prosthetic
After the implant post placement, Dr. Spencer will attach your denture prosthetic to the tops of the implant posts. Once in place, he will check the way the teeth fit together and your bite, and can make any last-minute modifications for fit or comfort.
Enjoy Your Beautiful New Smile
There may be a slight adjustment period as you adapt to eating and speaking with your All-on-4 dentures. For the next few months, your implant posts will bond with your jawbone in a process called osseointegration. Eating a diet of soft foods can help during this phase.  As the posts bond to the bone and become more comfortable, you will be able to incorporate normal foods into your diet.
Dr. Spencer and our team will provide complete instructions for caring for your dentures. We will also schedule follow-up appointments to check how your implants are healing.
Learn More about the All-on-4 Procedure Steps
If you would like more information about the All-on-4 procedure steps, La Jolla – North Pacific Beach dentist Weston Spencer welcomes you to book a consultation at his La Jolla – North Pacific Beach practice. Call or email us today to make your appointment.