What is All-on-4?
All-on-4 is a dental implant system that replaces an entire arch of teeth with four implant posts. The posts secure a denture prosthetic that recreates the appearance of natural teeth and gums.
Does the All-on-4 system look natural?
Yes. The artificial teeth and gum tissue are crafted from the finest materials for a very natural result. No one will be able to tell you have dentures or implants unless you tell them.
How long does it take to have All-on-4 placed?
Most patients can have their implant posts and dentures placed on the same day. The appointment generally takes a few hours.
Does it hurt to have All-on-4 placed?
No, your mouth will be numbed and you may be sedated with medication to make the experience pain-free. Dr. Spencer can prescribe pain medication to keep you comfortable as you heal from surgery.
Who is a good candidate for All-on-4?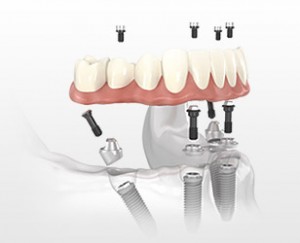 Interested candidates are encouraged to meet with Dr. Spencer for an evaluation and screening. Generally, suitable candidates for All-on-4 are in good health, do not smoke and are missing most or all of the teeth in the upper jaw, lower jaw or both. Candidates should have sufficient jawbone to support two implant posts in the anterior of the jaw and two implant posts in the posterior of the jaw.
How do I care for my new teeth?
Your All-on-4 prosthetic should be cleaned similarly to natural teeth. Specifically, your teeth should be brushed and flossed daily to prevent food particles from getting stuck in between the teeth. Our team can demonstrate the proper technique for you.
What are the advantages of All-on-4 compared to traditional dentures?
All-on-4 is more secure because the dentures are anchored in place to dental implant posts. The prosthetic does not require any adhesive or special products, unlike dentures. The artificial teeth look and feel like natural teeth, and they support normal eating and speaking function. Because the implants fuse to the jawbone, they stimulate bone growth and prevent bone loss; compare that to traditional dentures, which simply rest on the gums and cannot stimulate the bone.
What if I need All-on-4 on only one jaw?
Dr. Spencer can place All-on-4 on one jaw. However, we encourage you to have him evaluate your other jaw. If you are likely to need replacement teeth on that jaw in the future, it might make sense from a clinical and financial standpoint to replace the teeth on both jaws at the same time. Dr. Spencer can explain your options in more detail during a consultation.
What is the success rate of All-on-4?
All-on-4 has a very high success rate. According to the manufacturer of the system, Nobel Biocare, All-on-4 has a 99 percent success rate at three years. At five years, the system has a 98 percent rate in the maxilla and at 10 years, a 94.8 percent success rate in the mandible.
 How much does All-on-4 cost?
The cost of All-on-4 varies, depending on factors such as whether any remaining teeth need to be extracted, the materials used to construct the implant posts and denture appliance and the expertise of the dentist. Contact Dr. Spencer to schedule a consultation and discuss pricing with him and the rest of our team.
Where can I learn more about All-on-4?
To learn more about All-on-4, La Jolla – North Pacific Beach dentist Weston Spencer invites you to book a consultation at his San Diego-area office. Call or email us to make an appointment.