As a certified Invisalign® provider, Dr. Weston Spencer is pleased to provide the AcceleDent Aura system to patients of his La Jolla – North Pacific Beach dental office as a means of enhancing their orthodontic treatment. Invisalign® clear aligners already offer a variety of unique benefits that distinguish them among orthodontic appliances; for instance, because they are removable, patients can correct the alignment of their teeth while being able to brush, floss, and eat without cumbersome wires and brackets getting in the way. Now, with the innovative Acceledent Aura system at our San Diego practice, orthodontic treatment can often be completed more quickly with Invisalign® than with traditional braces as well. This means that you may be able to achieve the straight, healthy smile you desire in less time than ever before possible.
The AcceleDent Aura is a convenient, portable system that takes only 20 minutes per day to work with Invisalign® to gently guide your teeth toward their optimal position in your mouth. If you would like to learn more about the AcceleDent Aura, or you wish to learn whether you are a good candidate for Invisalign® treatment, please contact our cosmetic and restorative dentistry practice today.
Get to Know AcceleDent Aura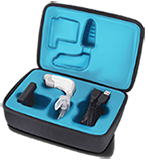 AcceleDent Aura is a handheld unit that utilizes micropulse technology to increase the effectiveness of Invisalign® alignment trays. Your Invisalign® aligners should be worn at least 20 hours per day and treatment length can vary. AcceleDent Aura allows treatment time to be drastically reduced. With a simple handheld device, patients are able to experience excellent results in as little as half the time of standard Invisalign® usage.
The small device fits in the palm of your hand and features an easy to use system with power button and LED light. A covered USB port sits at the base of the unit so patients can easily recharge the device. The mouthpiece is removable for easy cleaning, similar to your Invisalign® alignment trays. During use the device will alert you when you at the halfway point and conveniently shuts off when treatment is complete.
The device is FDA-cleared with clinically proven results to reduce discomfort and accelerate tooth movement.
How AcceleDent Aura Works
Your teeth are held in place by a strong bone that rests just below the gums. The bone ensures teeth stay firmly rooted in position. Invisalign and other orthodontic treatments put strain on this bone, leading to lengthy and sometimes uncomfortable treatment.
Years of scientific research discovered that specialized vibrations to the teeth increase the effectiveness of orthodontics and greatly improve patient comfort during the experience. With AcceleDent Aura, micropulses are sent to the bone to accelerate bone remodeling. The gentle vibrations emit 200 times less force than even simple chewing, demonstrating the device's safety.
With just 20 minutes of use per day, patients will find relief and an accelerated schedule for their Invisalign® treatment. The simple treatment can be performed while performing other tasks such as watching television, reading a book, or even playing guitar.
The Benefits of AcceleDent Aura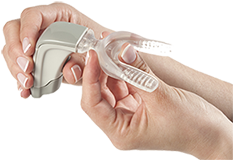 AcceleDent Aura was created to help patients during their orthodontic treatment. Brief use of the device every day promotes accelerated movement when used existing orthodontic treatments. The mild vibrations also provide relief from discomfort that some patients experience. Patients love the simplicity of the treatment. The device is easily charged at home or on the go, and it shuts off on its own when the treatment is complete.
The elegant simplicity and efficiency of the AcceleDent Aura system aligns perfectly with our conservative approach to dentistry. We are proud to be able to offer the AcceleDent Aura at our La Jolla – North Pacific Beach dental office.
Learn More about the AcceleDent Aura System
If you would like to learn more about the Acceledent Aura system and how you might benefit from it, we invite you to schedule your initial consultation with Dr. Weston Spencer by contacting our cosmetic and restorative dentistry practice today.
Actual Invisalign Patient
(Treated in only 6 months thanks to Acceledent)