Implants vs Dentures La Jolla
Losing teeth is a stressful experience. There may be concerns about eating and speaking normally, and losing the appearance of an attractive smile. It's nice to know that when you lose one or more teeth, you have several replacement options, all of which you can discuss with trusted dentist Weston Spencer. Nowadays, the San Diego-area dentist tends to recommend dental implants over dentures in a large number of cases.
Implant vs Denture Design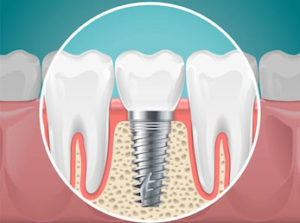 Dentures are removable prosthetics that replace natural teeth and gums. Partial dentures replace clusters of missing teeth, and complete dentures replace all of the teeth on the upper or lower jaws.
Dentures are constructed from a pink acrylic base that holds a set of artificial teeth. The whole prosthetic may be mounted to a metal framework for strength and support. Dentures rest on the tops of the gums and should be removed at night to soak.
Dental implants are designed to replace the entire tooth from root to crown. They are comprised of a small titanium post or screw that is surgically placed in the jawbone and mounted with an artificial tooth. Implants can support crowns, dental bridges and even a complete denture appliance.
Fit and Feel
Fit and feel is a common concern with dentures. Some people find complete dentures are bulky or uncomfortable, or they irritate the soft tissues of the mouth. Dentures that have been worn for years may slip around because the underlying jawbone becomes flatter and less able to retain the dentures. Dentures may be difficult to adapt to and impede clear speech; they may also make it difficult to eat certain foods.
Because dental implants are anchored to the jawbone, they are extremely stable and secure in the mouth. They don't slip or slide around, and they do not need to be removed for sleeping or cleaning. They feel and function just as a natural tooth would. They don't restrict diet in any way.
Appearance
Although modern dentures are quite lifelike, they don't support the rest of the facial appearance like dental implants do. Because dentures rest on the top of the gums, they fail to stimulate the jawbone. Over time, the jawbone can shrink and as that happens, the facial structures can start to shrivel up or look sunken-in.
Dental implants keep the jawbone stimulated to preserve a normal and youthful facial appearance.
Cost
Dentures are often the more cost-effective tooth replacement option. They are offered at all different price points to suit different budgets. However, cheaper dentures tend to look artificial or outdated. Also, dentures don't last forever. The cost of relining or replacing dentures every few years can add up over time.
Dental implants may require a larger upfront investment, but this is typically a one-time cost. They are made from the finest and most durable materials and can last a lifetime with the proper care.
The All-On-4System
All-On-4 is a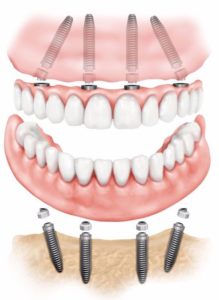 hybrid between dentures and dental implants. The system involves attaching a full set of teeth (a denture prosthetic) to four dental implant posts. This makes it possible to replace an entire upper or lower arch of teeth without individual implants. The cost of All-on-4 is quite reasonable.
If you would like more information about the All-On-4 system, dentures or dental implants, Dr. Weston Spencer would be happy to speak with you. Call or email our La Jolla – North Pacific Beach dentist office today to book a one-on-one appointment.