Dental Inlay & Dental Onlay in La Jolla
Dental decay comes in all shapes, forms, and sizes, so dental treatments are designed to meet the needs of all possible situations. Patients with tooth decay too large for a tooth-colored filling but too small to necessitate a dental crown may find that a dental inlay or a dental onlay is best suited to their particular case. Both inlays and onlays of the highest quality are available at the La Jolla – North Pacific Beach dental office of Dr. Weston Spencer and Dr. Lindy Rucks, serving all of San Diego County.
Know the Difference: Inlay or Onlay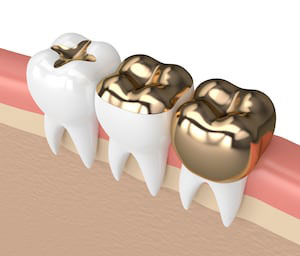 Inlays and onlays are a common restorative dentistry treatment used to fill and correct a damaged or decayed tooth. Both inlays and onlays can be made of a strong composite resin, gold, or ceramic depending on the individual needs of the patient. In most cases, a direct inlay or onlay can be created in our La Jolla – North Pacific Beach dental office, providing the patient with immediate treatment of their damaged tooth. However, in some more severe cases where the tooth has more structural loss, an indirect inlay or onlay will need to be created off-site at a laboratory.
Inlays and onlays are designed to restore the integrity of the tooth while maintaining a natural appearance. The process is used to restore cavities that have grown too large to be treated by a standard filling. Because of their strength and durability, inlays and onlays can actually make a tooth stronger, while prolonging the life of the tooth and preventing the need for further treatment.
While inlays and onlays are very similar they do have a distinct difference. Inlays are placed within the bumps of the biting surface of the tooth. An onlay, sometimes referred to as a partial crown, is larger and replaces one or multiple damaged cusps of the tooth as well, typically affecting the entire biting surface. A filling is a very similar procedure but typically treats a much smaller area on a non-biting surface.
Dental Inlays & Onlays Process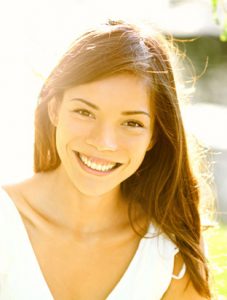 The process for inlays and onlays is very similar to that of a filling. Light anesthesia will be administered into the surrounding area and affected nerves to numb the area prior to the procedure. The area is cleaned and prepared for the procedure. A mold is taken of the affected tooth and surrounding area so that the inlay or onlay may be prepared.
If prepared on site for a direct procedure, the inlay or onlay is placed and cemented within the same visit. If an indirect procedure is needed, the mold will be sent to an off-site dental laboratory where the inlay or onlay will be created. In these cases, patients will need to return for a second visit once the lab has completed it so that it can be cemented into place.
Once placed and cemented, the inlay or onlay can be reshaped to achieve the ideal fit. Dr. Spencer will ensure your bite makes solid contact without feeling out of place. When the patient is satisfied with the feel of the tooth, the surface is polished to mimic the sheen of the remainder of the tooth.
Caring for Your Inlay or Onlay
Proper brushing and flossing will help you to maintain the life of your inlay or onlay for many years. As with all dental work, patients should avoid harmful activities like chewing ice or fingernails. With proper care, your inlay or onlay can last 10 years or longer. Routine professional teeth cleanings and dental exams at our La Jolla – North Pacific Beach dental office will ensure your inlay or onlay is performing well and will last for years to come.
Learn More about Dental Inlays and Onlays
Inlays and onlays are excellent, conservative dental treatments for our La Jolla – North Pacific Beach dental patients with moderate damage to their teeth. If you would like to learn more about inlays and onlays, or you wish to schedule your initial consultation with Dr. Weston Spencer, please contact our San Diego cosmetic, restorative, and general dentistry practice today.