Tooth Infection Treatment in La Jolla
Mention endodontics and most people won't bat an eye, but use its more common name of root canal therapy and you're bound to encounter some not-so-pleasant reactions. While there may be a certain stigma attached to root canal therapy, the procedure is actually relatively painless – in fact, it provides many patients with relief from excruciating pain. For patients who are suffering from tooth pain due to root canal infections, Dr. Weston Spencer provides root canal therapy at his La Jolla – North Pacific Beach dental office, serving the entire San Diego area.
Root Canal Therapy Explained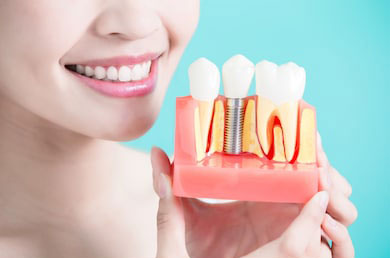 Endodontics is commonly referred to as a "root canal," though this is a bit of a misnomer. In fact, everyone has root canals, but the procedure is a means to treat the root canals and surrounding areas. More specifically, endodontics is a specialty within dentistry that focuses on the internal structure of the tooth, including the pulp, tissue, and nerves surrounding the root of the tooth. The pulp of the tooth is a soft substance inside the teeth that contains all of the nerves, connective tissue, and blood vessels. These nerves and vessels continue from the center of the tooth down through the roots and into the surrounding bone. All roots have at least one root canal, although some teeth will have up to four root canals.
Sometimes these root canals become infected, leading to a large amount of pain that can render a personal incapable of performing routine activities. Root canal therapy at our dental office in La Jolla – North Pacific Beach provides tooth infection treatment by removing the pulp and filling the root canals and pulp chamber. The remaining tooth structure is then covered with a dental crown or filling to prevent bacteria from entering the tooth and causing future infections.
When You Need Root Canal Therapy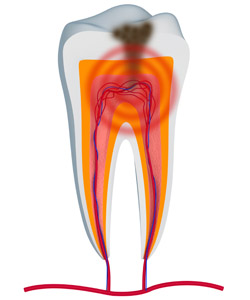 Patients may need to undergo root canal therapy for any number of reasons. Most often, the procedure is brought on by intense pain and sensitivity to heat or cold. Individuals may experience random pain, which may even evolve into a severe headache. If the tooth dies, it may become abscessed, causing pain during chewing and sometimes causes swelling and bleeding. Deep cavities can allow bacteria into the pulp, which can also cause intense pain in some cases.
Individuals who experience trauma to the tooth, possibly from a sports or motor vehicle accident, may benefit from a root canal if nerve damage occurs. In some cases, the tooth may fracture in a way that cannot be repaired by a crown. Trauma may also be caused by resorption or repeated dental procedures that cause stress to the tooth.
The Root Canal Procedure
To ensure that patients actually need endodontic therapy, Dr. Spencer will view x-rays of the root and may perform a pulp test with cold stimuli. Root canal therapy is performed in one or two appointments, depending on the severity of the tooth in question. Before starting the procedure, the area will be numbed with local anesthesia and isolated by a rubber dam to protect the procedure site.
An opening will be created in the top of the tooth so that all pulp can be removed from the tooth. The canals are cleaned with a disinfecting solution and then a special file is inserted to ensure the tooth is sufficiently cleaned and to allow adequate room for the tooth filling. X-rays are often taken throughout the procedure to ensure success. If the procedure requires a second appointment, Dr. Spencer will fill insert antibacterial medication into the tooth and place a temporary filling at the opening.
To complete the procedure, the problematic tooth is filled with gutta percha, a rubber-like material, and a sealing paste. Then, the tooth is topped with a crown or tooth-colored dental filling to protect it from further damage.
Aftercare
After root canal therapy, it is important to apply the permanent restoration, whether it's a permanent filling or a crown, to the tooth as soon as possible to prevent any further risks. It is still possible for a treated tooth get a cavity so oral health is very important. Brushing and flossing twice a day will protect the tooth and prevent cavities.
Learn More about Root Canal Therapy
Understanding the science of endodontics allows Dr. Weston Spencer to identify and address any teeth that could potentially risk the well-being and comfort of the patient. It also puts him in a unique position to provide root canal therapy of the most surpassing quality at his La Jolla – North Pacific Beach dental office. If you are experiencing tooth pain, we encourage you to schedule an appointment at our convenient San Diego office location today.