Invisalign® Teeth Aligners in La Jolla
Whether a patient is 13 or 33, the prospect of treating malocclusion or misalignment with a mouth full of metal is probably not something he or she would be terribly excited about. Metal braces are often uncomfortable and cumbersome, preventing individuals from enjoying certain foods or participating in specific activities. They're inarguably conspicuous. For these reasons and more, Dr. Weston Spencer is excited to offer Invisalign® treatment to patients of his La Jolla – North Pacific Beach dental office, serving all of San Diego County. Invisalign® is the clear braces alternative to traditional braces that has revolutionized orthodontics.

Get to Know Invisalign®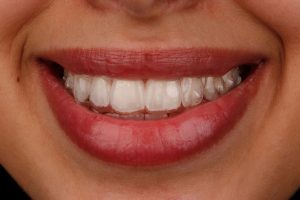 Invisalign® is an innovative way to treat malocclusion, the condition in which a patient's upper and lower teeth do not come together properly when the jaws are closed, as well as misalignment, in which a patient's teeth are crooked or separated by gaps. Instead of traditional braces that are made of metal are bonded to the teeth, Invisalign® involves the use of a series of clear, customized aligner trays that are removable. These trays make small deliberate adjustments to the teeth until the desired positioning is achieved. Best of all, they are virtually invisible, offering our patients discretion during their orthodontic treatment.
Invisalign® clear plastic aligners are potentially ideal for treating a number of cosmetic imperfections. Invisalign® trays are used to correct crowding, overbite, underbite, open bite, and cross bite irregularities.
The Benefits of Invisalign® Clear Braces
Aside from just teeth straightening, Invisalign® offers a number of benefits over traditional braces:
Unlike metal braces that can make it difficult to clean around the brackets and wire, Invisalign® can be removed so patients are able to easily and thoroughly brush and floss their teeth. The trays can, and should, be removed during meals making it easy for patients to enjoy all of their favorite foods, including popcorn, corn on the cob, and peanut butter.
Invisalign® clear aligners are comfortable for patients to wear all of the time. The smooth surface of the aligners also means patients don't experience the unpleasant cuts and tears to the lips and cheeks that can occur with traditional braces. Patients are even able to participate in sports and activities that could otherwise cause damage to the mouth and even traditional braces themselves.
As an added benefit, Invisalign® aligners provide a thin layer of protection from night grinding that can lead to temporomandibular joint disorder, or TMJ disorder.
Many patients choose to combine Invisalign® treatment with professional teeth whitening as part of a comprehensive smile makeover plan.
How Invisalign® Works
Dr. Spencer uses sophisticated computer technology to scan the patient's entire mouth and produce a three-dimensional image. Using the software, a treatment plan will be devised that generates time-lapsed images of the patient's teeth as the adjustment is made. Customized aligners will be created using the computer-simulated model.
Invisalign® aligners should be worn a minimum of 20 hours per day to achieve optimal results. Each set of trays is typically worn for two weeks before moving on to the next set in the series. Treatment length varies based on the needs of the patient, taking anywhere from four to eighteen months before final results are achieved.
---
Dr. Spencer Cares!
I wore invisalign for over a year! Every step of the way, to a beautiful smile, Dr. Spencer and staff were encouraging, supportive and extremely thorough regarding my care. I felt as if I was Dr. Spencer's only patient. He always had time for my questions, explained procedures and gave me options. The new office is beautiful, state of the art, and the staff cares!
~ Maureen M.
---
Fast Invisalign Treatment – Acceledent Aura
While using the Invisalign system, you can enhance your teeth alignment process and potentially spped things up with AcceleDent Aura. It is a convenient, portable system that takes only 20 minutes per day to work with Invisalign® to gently guide your teeth toward their optimal position in your mouth. If you would like to learn more about the AcceleDent Aura, you can find more information here:
---
Caring for Your Teeth and Aligners
One of the advantages of Invisalign® is the patient's ability to brush and floss his or her teeth without cumbersome braces getting in the way. After each meal or snack, the teeth should be brushed to prevent plaque from getting trapped in the aligner. Failure to do so could result in tooth decay and gum disease. Use the opportunity to clean your aligners as well. Brush the aligners and rinse them with lukewarm water to remove any debris.
Learn More about Invisalign® Treatment
Invisalign® clear aligners are an excellent alternative to traditional braces for patients of our La Jolla – North Pacific Beach dental office who are in need of orthodontic treatment. If you are wondering whether you might benefit from Invisalign® treatment, we urge you to schedule your initial consultation with San Diego dentist Weston Spencer today.