Custom Mouth Guards in La Jolla
Whether you participate in contact sports or you suffer from chronic teeth grinding while you are sleeping, protective mouth guards offer the protection you need to preserve your beautiful, healthy smile. Unfortunately, some people are hesitant to wear protective mouth guards because they are afraid that they will be bulky and cumbersome. However, Dr. Weston Spencer provides custom-crafted protective mouth guards at his La Jolla – North Pacific Beach dental office, made from the finest materials to ensure a comfortable a comfortable, functional, durable alternative to their over-the-counter, store-bought counterparts. Patients of our San Diego practice find that these professionally made mouth guards offer a superior level of protection while being an absolute pleasure to wear.
The Reason behind the Superior Protection of Custom Mouth Guards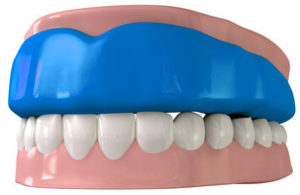 Mouth guards are designed to provide protection to the mouth in situations that put the teeth and mouth at risk. But not all mouth guards are created equally. Store-bought guards come in an array of color combinations and sizes designed to appeal to athletes and individuals suffering from chronic teeth grinding. These generic appliances are often cumbersome and ill fitting, offering inferior protection while impeding natural performance. The bulk of the mouth guard can make it difficult to speak and sometimes even breathe. The inconveniences and pain caused while wearing the mouth guard can deter individuals from even wearing them, putting them at risk for injury.

Contact Us For Custom Mouth Guards

Dr. Weston Spencer offers custom mouth guards designed for protection and function. These custom mouth guards are created of thin plastic that is molded to your teeth to provide a snug fit. The strong, durable plastic is thin enough to allow the wearer to communicate while still offering superior protection. Because they are molded under the skilled hands of Dr. Spencer, professional grade mouth guards don't harm the gentle soft tissues within your mouth while being rugged and hard wearing enough to stand up to the most traumatic of events.
Not only do custom mouth guards offer better protection and allow for more natural function, but they also protect the wearer from damage to any existing dental work that has been performed. Damage to teeth, particularly after restorative and cosmetic dentistry work has already been performed, can lead to costly repairs. Mouth guards protect the investment an individual has made in their porcelain veneers, dental crowns, dental bridges, and other dental work.

Contact Us For Custom Mouth Guards
Types of Mouth Guards

Mouth guards are available to provide protection for various situations. Not all guards serve the same function and Dr. Spencer can create your mouth guard with your desired function in mind.
Contact Sports Protective Guards
Individuals who participate in any sort of team or contact sport should wear protective mouth guards. Whether the sport of choice is football, hockey, baseball, soccer, martial arts, lacrosse, gymnastics, mountain biking, wrestling, and any number of other activities, a mouth guard can protect the wearer against damaged teeth and soft tissue lacerations from collision or impact.
Night Guards for Bruxism
Bruxism is a condition in which people grind and clench their teeth, especially throughout the night when they are consciously unaware of their actions. Chronic teeth grinding can lead to damaged teeth, headaches, and pain within the jaw and joints. A night guard protects the teeth from wear, which deteriorates the enamel and exposes the tooth to sensitivity.

Contact Us For Custom Mouth Guards
The Mouth Guard Fitting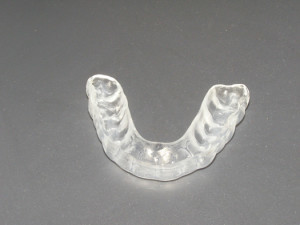 Dr. Spencer will fit the patient for his or her custom-made protective mouth guard during his or her appointment at our La Jolla – North Pacific Beach dental office. Because of the custom nature of the mouth guard, Dr. Spencer will be able to create an appliance that works with any existing dental work, including braces. Any questions or concerns can be addressed during the appointment to ensure the mouthpiece meets the needs of the patient.
Caring for Your Mouth Guard
Before and after wear, the mouth guard should be cleaned with a mouth rinse or mild soap and rinsed in cold water to keep the mouth guard safe and protect against disease. The mouth guard should be stored in a protective case in a cool, dry place so that heat and nearby items don't cause damage to your custom-made mouth guard.
Learn More about Custom Protective Mouth Guards
Mouth guards aren't something that most people think of when they picture a beautiful smile, but they do offer support and protection to keep a beautiful smile intact. The custom-made protective mouth guards available at our office in La Jolla – North Pacific Beach offer our patients superior protection of the hard and soft tissues of their mouths in the event of trauma. If you would like to learn more about the custom protective mouth guards available at our convenient San Diego office location, please contact our cosmetic, restorative, and general dentistry practice today.