Dental Implant Placement Process
FREE Dental Implant Consultation (including necessary x-rays)
~ OR ~
FREE Second Opinion ($199 value) Call 858-459-0077 today to schedule.
No two dental implants patients are exactly alike. Everyone's treatment experience is a bit different, customized to their particular needs and goals. The number of appointments and timeframe varies by patient. However, the process of having dental implants placed with San Diego-area implant dentist Weston Spencer follows a general framework.
Planning the Course of Treatment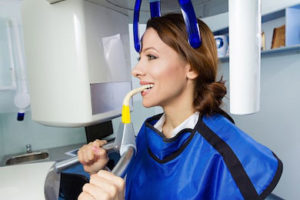 The first step is to plan out your implant placement. Dr. Spencer will perform a comprehensive oral examination, noting the gap or gaps left by missing teeth. He will take digital X-rays and three-dimensional images of your jaw to get a look at the underlying structures and evaluate the quality of the bone. This helps him to determine whether the bone is strong enough to support one or more implant posts.
If the jawbone is inadequate, Dr. Spencer can discuss options for bone grafting. This involves harvesting bone from another area of the body and using it to build up the quantity and quality of the bone. A synthetic bone-like material may be used in some cases.
Dr. Spencer may take impressions of your mouth or create molds of it to help plan out your dental implants treatment. He will also determine the specifications of the artificial tooth, selecting the size, shape and color of the tooth to match your surrounding natural teeth. This information will be sent to the laboratory that constructs your tooth replacement.
If you need a single tooth replacement, you will receive a dental crown. Multiple teeth can be replaced with a partial denture or dental bridge, and all of the teeth of the upper or lower jaw can be replaced with an All-On-4 prosthesis. The placement process for All-On-4 is a little bit different, too.
Placing the Implant Post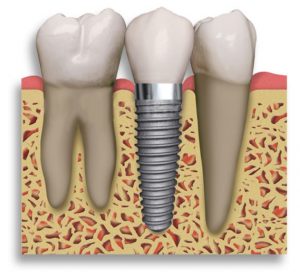 Once the course of treatment has been decided on, you will have another appointment to place the dental implant post. You may receive sedation medication orally, intravenously or by inhaling laughing gas to put you into a completely relaxed state where you cannot feel pain. Your tooth will also be numbed ahead of time.
A small incision will be created in the gum tissue to access the underlying jawbone. A circular opening will be made in the bone to hold the post. Then, the post, which may look like a tiny rod or screw, will be placed in the opening. It will likely be constructed from titanium. The top of the post may be visible through the gum, and a temporary crown can be mounted to it. This allows you to avoid going "toothless."
The post will be left to heal for a period of about three to six months. During this period of time, called osseointegration, the implant post "takes root" in the jawbone and becomes part of the bone's anatomy.
Mounting the Artificial Tooth
Once the post has fused to the jawbone, you will return for another appointment. Again, the area will be numbed and you may receive sedative medication to make treatment more comfortable.
During this appointment, Dr. Spencer will remove the temporary restoration and place an abutment piece on the top of the post. Then, he will attach your custom-crafted artificial crown, dental bridge or denture to the abutment. Dr. Spencer can make any last-minute adjustments for fit or comfort at this time. Finally, the artificial tooth or teeth will be polished so they look beautiful and natural in the mouth.
If you have any questions about the placement of dental implants, La Jolla – North Pacific Beach dentist Weston Spencer would be happy to answer them. Call or email our practice today to make an appointment at our San Diego-area dental office.