Each tooth in the mouth works together so you can speak clearly, chew comfortably, and smile and laugh with ease. If one or more teeth are missing, it can have an effect your whole mouth. Teeth sometimes move to fill in a gap where a tooth was extracted, making the surrounding teeth more vulnerable to decay as well as displacement. If the missing tooth is in the front of your mouth, eating foods like apples can be challenging. Some people even hold back big smiles, not wanting others to notice the gap left from a missing tooth. Fortunately, all of these issues can be resolved with dental implants for full mouth restoration in Rancho Sante Fe. Dr. Weston Spencer is an expert dentist who offers a wide variety of options for restorative dentistry, including dental implants.
[videoplay autoplay="0″ videourl='/sitevideos/AboutThePractice-HD.mp4′ cssclass='myclassVideo']
Individual Tooth Implants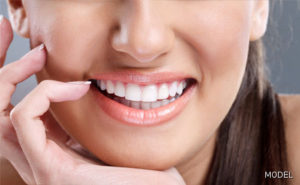 Individual dental implants are a surgical solution for full mouth restoration. An implant is surgically placed into the jaw to act as the root. Over the course of a few months, the implant fuses to the bone and becomes a sturdy, permanent fixture. Once the implant has fused to the bone and healed, an abutment is attached to the implant to support the crown. If more than one tooth implant is added, then a dental bridge is attached.
Dental Bridge
Dental bridges are a wonderful option for patients with multiple teeth missing. Unlike other San Diego dentists, Dr. Spencer custom crafts dental bridges specifically for your mouth. Some dental bridges can be attached to adjacent teeth while in the case of dental implants, dental bridges with implants do not need to involve the other healthy teeth and can attach to the implantations instead. This method is ideal to protect the healthy surrounding teeth from the process required to affix traditional dental bridges to the surface.
Full Arch Dentures
Full arch dentures, also known as a full arch replacement, is an option when all the teeth are missing or in need of replacement. A full arch replacement is permanently is permanently affixed using just four strategically placed implants, a process known as All-On-4 implants. While traditional dentures are certainly an option, full arch dentures fixed to dental implants is a permanent solution that is very aesthetically pleasing. You can have the look and feel of a complete set of natural teeth that are completely stable. Cosmetic dentistry can restore your ability to eat well, speak clearly, and smile with confidence.
Are Dental Implants Right For You?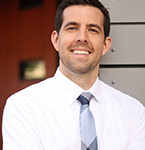 Dr. Spencer is an expert dentist in cosmetic dentistry in La Jolla. To meet him and get a consultation on his dental implant services, please contact his office by calling (858) 215-2153 or reach out online. He can determine if you are a good candidate for individual tooth implants, a dental bridge, or full arch dentures. There are so many ways to achieve full mouth restoration and a consultation with Dr. Spencer in Rancho Santa Fe is the first step towards a healthy, happy mouth.