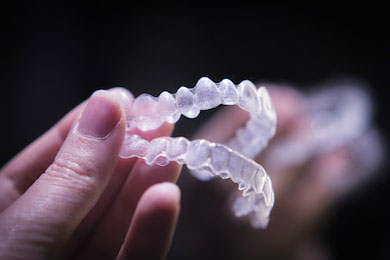 A beautiful straight smile is one that can take you places, with the confidence that can only come from feeling your radiant best. Traditional braces have for years been the go-to choice for dental professionals seeking to guide their patients to that straight smile. While traditional braces do still have their place, Dr. Weston Spencer offers his patients non-invasive solutions like ClearCorrect in Rancho Santa Fe and La Jolla offices.
How does ClearCorrect work?
ClearCorrect is a teeth straightening system, used as an alternative to the metal braces that have for so long been the norm. Much like other aligner products, Invisalign as an example, ClearCorrect is offered by dental professionals who have been trained and certified to offer them.
ClearCorrect adjusts the position of teeth and straightens them with a series of clear aligners that are custom-made for your teeth. The aligners are removable to allow for ease of eating and good oral hygiene. They gradually adjust the position of teeth, with the goal of correcting your smile to one that boasts straight teeth.
How are ClearCorrect aligners made?
Dr. Spencer will send detailed records to the ClearCorrect laboratory so that your aligners can be custom-made for your teeth. These records could include impressions and digital images. A 3D model of your teeth will be made by the ClearCorrect team. From this they will map out your treatment plan, showing the realignment that will gradually reposition your teeth.
With the integration of the latest in digital mapping and aligner molding solutions, your custom aligners will be created with the highest levels of accuracy. The ClearCorrect aligners have been designed to be barely noticeable. Unlike their traditional metal counterparts, these clear braces won't have an impact on your day-to-day routine.
How long will ClearCorrect take?
Each phase of ClearCorrect in Rancho Santa Fe is a four-part treatment plan. Each phase of the treatment plan required wearing a new set of aligners for three weeks. It's important that the aligners are worn around the clock. They should only be removed for meals, and when you're brushing and flossing your teeth.
After each aligner set, you'll notice clear results as your teeth have gradually adjusted into the desire position. Keep in mind that it's important to maintain your check-up appointments with Dr. Spencer so that he can evaluate your progress.
Overall treatment times can vary, based upon the degree of your misalignment. You could need several phases, for anywhere from one to two years.
Am I a candidate for ClearCorrect?
ClearCorrect is a good option for teenagers and adults alike. There are some conditions that may make it more of a challenge to get your ClearCorrect in Rancho Santa Fe. Having other dental complications that should be treated first may delay your getting ClearCorrect aligners.
ClearCorrect can otherwise be used as a treatment solution for a large number of orthodontic concerns.
Spaces between teeth
Overcrowded teeth
Overbites and underbites
Rotated teeth
Dr. Weston Spencer works out of two offices, for your convenience. Whether you're looking for ClearCorrect in Rancho Santa Fe or La Jolla, you'll find him to be warm, compassionate, and dedicated to the preservation and restoration of your winning smile.
Are you ready to discuss ClearCorrect in Rancho Santa Fe with Dr. Spencer? Call the office at (858) 215-2153 or complete the online form to have a member of the team call you.