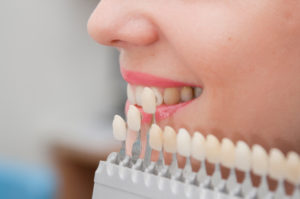 Your smile is your defining feature that stands out in photographs and events. You strive to keep your teeth in the healthiest conditions, yet sometimes accidents happen where a tooth gets chipped. Daily habits such as teeth grinding or playing contact sports can cause a part of the tooth to break resulting in an unattractive chip. In order to restore your teeth to their original shape and coloration, Dr. Weston Spencer offers beautiful porcelain veneers in Rancho Santa Fe.
[videoplay autoplay="0″ videourl="/sitevideos/AllOn4.mp4″ bgimg="/wp-content/uploads/2016/01/vidbg-1.jpg" cssclass="myclassVideo"]
What are porcelain veneers used for?
Porcelain veneers are a very useful treatment for treating a variety of dental conditions. They can be applied to fill in small chips in the tooth thus restoring a smile. They can balance the color of off color teeth when bleaching or whitening agents fail. In addition, they can fill in gaps and fractures in the tooth. Porcelain veneers are thin layers of ceramic shells that are applied to the chip in the tooth. A skilled practitioner like Dr. Spencer provides the precision and expertise so that your porcelain veneers create a radiant smile and last forever.
What should I expect during the procedure?
In order to have your porcelain veneers properly matched and fit to your unique tooth, Dr. Spencer requires three visits that allow him to produce the highest quality product. During your initial visit, he will discuss your aesthetic goals and options to ensure that your new teeth will last a lifetime. After the consultation, he will prepare the surface of the teeth for proper placement. It is important that he prepares your teeth so that the porcelain veneers do not detach or fail to bond. He may reshape the tooth if it is severely misshapen. After preparation of the teeth, Dr. Spencer creates a mold of your mouth so that his custom- made veneers precisely match your teeth shape.
Dr. Spencer then sends the molds off to a lab where his specialists fashion veneers that specifically match your tooth shape, size, and color. During the two weeks in which your molds are being replicated, you may wear a temporary cover to hide your chip. Once the final porcelain veneers arrive at his office, Dr. Spencer will carefully bond your customized porcelain veneers to your teeth.
How should I care for my brand new porcelain veneers?
Now that you have had your chip filled with Dr. Spencer's beautiful and precisely made porcelain veneers, aftercare is essential to prevent damage or replacement treatment. With Dr. Spencer's guidelines, your stunning smile will last a lifetime. Care for porcelain veneers is fairly simple. You should brush and floss your teeth twice a day. Because your porcelain veneers can stain, he recommends that you avoid staining foods and beverages such as red wines and foods with artificial coloring. In addition, it is important that you do not engage in contact sports or grind your teeth because excessive force may lead to chipping.
What makes Dr. Spencer different?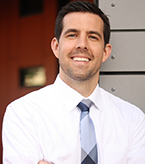 Dr. Weston Spencer's practice provides superior treatment using only the latest innovative technology to maximize precision and comfort. He serves a variety of patients with his family, cosmetic, and preventative dentistry specialties. Dr. Spencer practices conservative dentistry to reduce risk of infection, treatment time, and cost.
Place your porcelain veneers in Dr. Spencer's skilled hands and contact his office today online or by calling (858) 459-0077.
[reviewarea]