When most people hear about having orthodontic work, they imagine a teenager with unsightly painful braces and retainers. In reality, it is very common for teens and adults to have their teeth straightened professionally with Invisalign. Invisalign is an excellent choice if you wish to hide your dental treatment. You have the freedom to enjoy food and smile without the fear of seeing braces with Invisalign. Dr. Weston Spencer provides professional and simple treatment for children and adults seeking Invisalign in La Jolla and Rancho Santa Fe.
[videoplay autoplay="0″ videourl='/sitevideos/Invisalign-HD.mp4′ cssclass='myclassVideo']
How important is it to have a professional for Invisalign treatment?
Even though Invisalign sounds simple, it is very important for a professional such as Dr. Spencer to oversee Invisalign treatment. Receiving orthodontic care is a serious process, as not having an orthodontist oversee your treatment can lead to severely damaged teeth that may not be able to be reversed. There are numerous cases of people ordering Invisalign online only to discover that these molds have ruined their smile and cost them far more money to correct than if they had consulted with a professional. In addition, having treatment under the care of a professional allows for faster progress than any at home remedies.
What are the benefits of Invisalign?
Orthodontists recommend Invisalign for many reasons such as:
A bright, straight smile to increase self-esteem.
Correct any misaligned teeth that impact brushing, eating, and smiling.
Effectively hiding dental treatment from the public.
Using removable trays so you can eat and brush without discomfort.
What should I expect during the consultation?
The first step to starting your Invisalign care, is having a preliminary consultation with Dr. Spencer. He will examine your smile and may take X-rays to determine what kind of malocclusion you have. During this time, your orthodontist will discuss your treatment goals and determine if Invisalign is the best treatment for your smile.
What is the process for creating the molds?
In order to straighten your teeth quickest, Dr. Spencer creates custom Invisalign clear aligner molds, by taking X-rays, pictures, and physical impressions of your teeth and gums, which are sent to a lab where custom clear aligner trays are crafted. You will receive the clear trays at your next visit. Every two weeks, Dr. Spencer will give you a new set of slightly different molds that are designed to slowly move your teeth into position.
It is very important that you wear the clear molds each and every day for at least 22 hours. The plastic material is made to be soft and clear so that the teeth will not become irritated or ache. You should wear them most of the day and only remove them for eating meals and brushing. Because they are clear and hidden from the public, only you will know that you are receiving orthodontic care.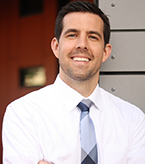 Dr. Weston Spencer provides patients with comprehensive and effective treatment to achieve a healthy and beautiful smile. Reach out online to learn more about Invisalign in La Jolla and Rancho Santa Fe or call his office to book an appointment at (858) 459-0077.