Dealing with dentures can be a hassle. Between the solutions, the adhesives, the special toothpastes, and the time it takes to deal with them, dentures can cause quite a headache. Fortunately for some patients, the hassle can be eliminated. Implant placed dentures, known as All-On-4 implants, can provide a beautiful full set of teeth with the performance and ease of natural teeth.
What are All-On-4 implants?
All-On-4 implants are implants that allow an entire row of teeth to be replaced with just four strategically placed posts. They are sometimes referred to as implant dentures, essentially because they support a full set of fixed crowns placed into a flesh-toned base to match the gums. The posts are surgically placed and composed of surgical grade titanium that fuses with the alveolar bone that supports the teeth.
[videoplay autoplay="0″ videourl="/sitevideos/AllOn4.mp4″ bgimg="/wp-content/uploads/2016/01/vidbg-1.jpg" cssclass="myclassVideo"]
What are the benefits of All-On-4 implants?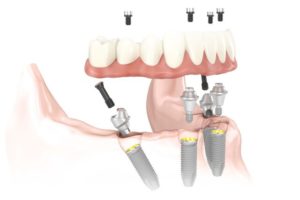 Unlike traditional dentures that are removable, All-On-4 implants are permanent fixtures that work just like the natural teeth. That means San Diego patients don't have to deal with soaking solutions or unreliable adhesives that are difficult to clean from dentures. All-On-4 implant dentures provide the strength and support of natural teeth, all on only four implant posts. In some cases, patients can have beautiful new teeth in a day.
Are All-On-4 implants right for me?
During your consultation and exam, Dr. Spencer will determine if All-On-4 implants are right for you. Ideal candidates will have sufficient tissue and bone density to support the implants. La Jolla area patients should be of good health prior to the surgery to encourage a healthy recovery. Dr. Spencer will take time to discuss your options and to help you make a decision to determine if implants are right for you. All-On-4 implants are not recommended for all patients.
What should I expect during the procedure?
Prior to the procedure, anesthesia is administered to provide the patient with comfort. The area will be prepared by removing any remaining teeth in the row to accommodate the denture appliance. Using computer-aided imagery, the posts are surgically implanted to ensure proper placement. A specialized drill and tools will be used to perform the procedure to the necessary specifications.
After the mouth has healed and the implants have fused to the bone, the denture can be attached. The area will be inspected to ensure the denture fits properly. Abutments will be attached to the posts to support the dental appliance.
What is the recovery process like?
Patients will be provided with specific care instructions following surgery. Swelling is expected and medications can be recommended for any discomfort. Patients care for their implants just as they would their natural teeth. Dr. Spencer encourages patients to brush and floss twice per day and will perform routine exams to ensure the implant dentures are performing as desired.
Why should I turn to Dr. Spencer for my implant dentures?
Dr. Weston Spencer is a skilled dentist who is proud to serve La Jolla and the surrounding San Diego area. Many of the offers you hear for teeth in a day at low prices do just that, give you teeth in a day with out any follow up. Dr Spencer is able to offer you teeth in a day and continue as your dentist to follow up for your life time.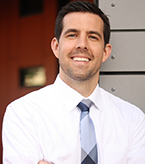 If you are interested in learning more about All-On-4 implants in San Diego, contact our friendly staff to schedule your consultation. You can reach our office online or by calling (858) 459-0077.[reviewarea]